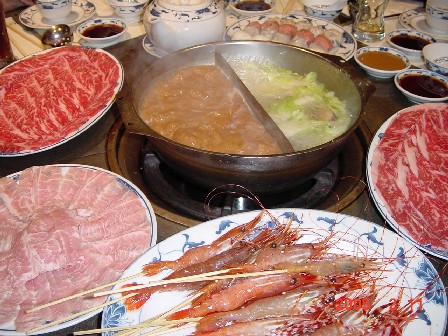 My family has been coming to this hot pot house for our Chinese New Year reunion every year since we immigrated. Although there are a lot of great and cheap hot pot places in Richmond, this is the only good one in Vancouver. Now that it is a block away from the 25th station, it is hard to resist going when I get hot pot craving.
What is Chinese Hot Pot?
Hot pot is the pinnacle of communal and social dinning. It is aromatic, warm, and great on the cold winter nights. Essentially, it is a pot filled with either boiling salt water or a flavored broth, and it is set on a mobile heat burner in the center of the round family dinner table. Everyone would sit around the table and slowly put various cooked or raw ingredients in the pot. Once it is cooked, food is scooped out and ate with sauces, such as satay, peanut sauce, ponzu, and chili sauce. Eating hot pot is my earliest memory of food, culture, and etiquette. Think of it as Chinese culture squeezed in a pot.
Anyway, back to the restaurant:
Food: (2.5/5)
It is hard to evaluate the cooking, since not much cooking was done by the chefs. However, the restaurant does provide several types of broth. They have salted vegetable broth for the less adventurous, spicy chili broth for those who are suicidal, and Chinese medicine broth for customers like my mother. My favourite is the satay which is flavorful with a small kick. They also offer "Mallard Pot" which allows the table to have two different broth flavours in one pot (there are no mallards in the soup). Hot pot houses in Richmond offers more varieties, but they are far... Each person gets flavored soy sauce, peanut sauce, and satay sauce (my favourite). For four people, we ordered about 8 plates of different meats, veggies, and noodles. There are communal utensils and separate chopsticks for handling raw foods. My favourite is taros which tastes absolutely delicious after 10 minutes of soaking and boiling in satay broth.
Service: (3/5)
They have the same staffs for 13 years. The service is consistent and adequate. Sometimes, we still have to wave down the waiter though.
Ambience: (3/5)
I don't think the restaurant were aiming to be romantic. It is bright, noisy, and busy: the perfect environment for new year celebration though. No music, table cloth, and paper napkin.
Overall (4/5):
I have to be careful to not be too Western centric with my rating. This place is consider pretty gourmet and pretty special for Chinese. It is definitely worth going once for the cultural experience. They serve free house-made plum wine at the end. Pretty exotic stuff if you never had it before.
This place is a block away from Canada Line's King Edward Station. Can't miss it.